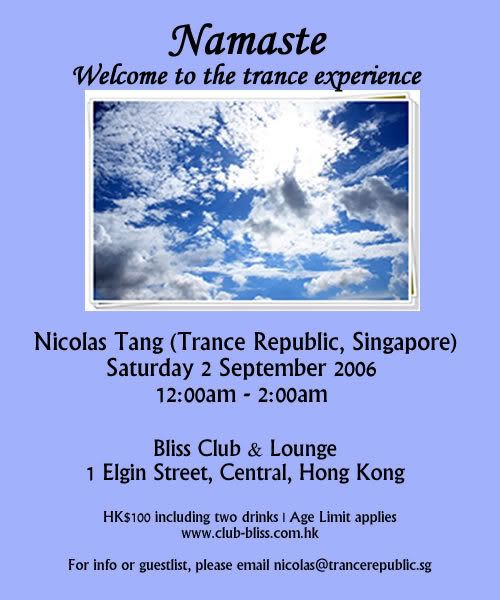 Namasté is the first in a series of trance events in Hong Kong which seeks to promote trance music to international standards. Namasté or Namaskar (?????? in Hindi, from Sanskrit namah te ) is a South Asian greeting originating in India, which is used when both hello and goodbye would be used in English. This also recognizes the equality of all, and pays honor to the sacredness and interconnection of all, as well as to the source of that interconnection.
DJ Bio
Born in Singapore in 1976, Nicolas Tang discovered trance music in the UK in 1997. Upon his return to Singapore in 2000, he discovered it did not have much of a trance scene. His interest in trance led him to set up Trance Republic ( http://www.trancerepublic.sg) with fellow DJs Jas K and Brandon Wong. Since then, he has played at various Singapore clubs including Phuture, Milkbar, Fuse, Liquid Room and Velvet Underground and is known by his fans for spinning uplifting and vocal trance anthems.
Through the organisation of trance events and by working closely with superclubs towards promoting trance, Trance Republic gradually elevated the trance scene in Singapore to what it is today. This summer, Trance Republic released REPUBLIKA II, its second compilation featuring music from Armin van Buuren, Gabriel & Dresden, Andy Moor, Above & Beyond and more.
Nicolas emigrated to Hong Kong in 2006 and plans to contribute to the scene here with the launch of regular trance events. "After checking out clubs in Hong Kong, I realised that there is still room for trance music," says Nicolas. "I would like to see Hong Kong's trance scene improve and I believe that this city has great potential".
Bliss admission on 2 September for non-members (incl 2 drinks): HK$100